Expanding Access To In-Demand IT Career Pathways


Using

employer-driven credentials to support on-ramps to IT careers

.
S

ince the start of the COVID-19 pandemic and the

coinciding

economic downturn it caused,

economic

recovery across the United States

has been

uneven. Millions of workers who lost jobs during the

recession—

primarily

Latinx and Black workers

from low-income backgrounds—must reinvent themselves and build the in-demand skills

required

for today's jobs.




While many industries were hit hard by the economic downturn, IT remains robust. Employment in IT occupations is expected to grow 15% nationwide from 2021-2031, adding about 682,800 new jobs. A significant portion of the new jobs will be in IT support, collection, and storage of big data, user experience, and information security. IT support roles are found across many sectors of the U.S. economy to support the need for a more connected and expanding business environment. In 2021, the Bureau of Labor Statistics found that the largest employers of IT support professionals included telecommunications, finance and insurance, management of companies and enterprises, and educational services.
The Jobs for the Future (JFF) Rapid IT Training & Employment Initiative (RITEI) can provide the training needed to fill these roles.


RITEI Overview
The purpose of the Rapid IT Training & Employment Initiative—which is supported by an H-1B One Workforce grant and led by JFF in partnership with the National Association of Workforce Boards (NAWB), the AFL-CIO Working for America Institute (WAI), CompTIA, and four leading organizations (Metropolitan Community College, JEVS Human Services, the Colorado Community College System (CCCS), and TechSF; Redemption Bridge exited the program in June 2023)—is to connect unemployed and underemployed workers to jobs in IT and to provide incumbent workers with the training they need to move on to positions that require more advanced skills.
Over the span of the four-year grant, RITEI will train individuals who are unemployed, underemployed, or incumbent workers for the in-demand CompTIA A+ Certification using the innovative, online CompTIA Tech Career Academy, the Hybrid+ platform formerly known as Mentored Learning 2.0, or one of the six Google Professional Certificates supplemented by rigorous, paid work-based learning (WBL).


JFF's Role
The JFF team brings together a range of public and private partners at the national and local levels. As a national nonprofit that works as an intermediary with extensive experience supporting the IT sector, JFF serves as the grant lead and provides program management, coordination across sites and partners, technical assistance and coaching, subject matter expertise, and research to understand the effectiveness of the RITEI model and make recommendations for future scaling.
We will train underemployed and unemployed workers

and jobseekers

who are 17 and older for high-demand, middle- and high-skill IT roles in

Denver, Omaha, Philadelphia, San Francisco, and Dallas.

Key metrics include:
Education/Training Completed by
1,620
Participants
150
Incumbent Workers Participants Complete Training and Advance
At least
25%
of Participants Enrolled in WBL
According to labor market information research that JFF conducted in fall 2021, IT roles are in high demand and offer strong earnings.


For example:
RITEI Approach and Career Pathways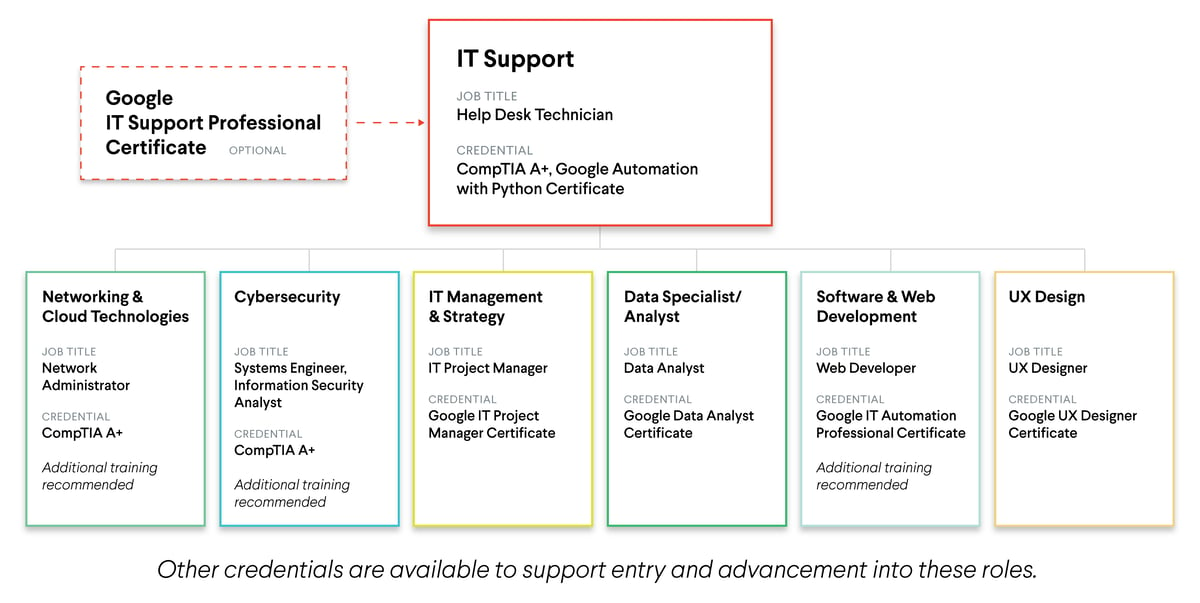 Meet Our National Partners



AFL-CIO Working for American Institute
The AFL-CIO Working for America Institute (WAI) is a nonprofit, 501(c)(3) national workforce intermediary organization that assists unions, employers, workforce intermediary partnerships, the workforce system, and community organizations by advocating for and providing employment and training-related services that help to create, expand, and retain high-quality jobs.
The WAI works with AFL-CIO institutions (more than 600 state labor federations, local labor councils, and the Industrial Union Council) and unions, employers, workforce boards, and apprenticeship officials to increase the effectiveness of economic development and workforce systems.
Through the AFL-CIO's federated structure, RITEI will work with the central labor councils and unions and employers in the five states to identify training needs and support placement of trainees.
CompTIA
The Computing Technology Industry Association (CompTIA) is a leading voice and advocate for the $5 trillion global information technology ecosystem and the estimated 75 million industry and tech professionals who design, implement, manage, and safeguard the technology that powers the world's economy.
Through education, training, certifications, philanthropy, and market research, CompTIA promotes industry growth, the development of a highly skilled workforce, and a commitment to creating an environment where innovation happens and the opportunities and benefits made possible through technology are available to all.
Over the four years of the initiative, over 1,200 learners will utilize the CompTIA Tech Career Academy Hybrid+ training toward the CompTIA A+ certification. Learners will also receive vouchers to take the CompTIA A+ exam, resulting in an industry-leading certification.
National Association of Workforce Boards
The National Association of Workforce Boards represents approximately 550 workforce development boards (WDBs) and their 12,000-plus business members who coordinate and use workforce strategies with education and economic development stakeholders within their local communities, to ensure that state and local workforce development and job training programs meet the needs of employers. These investments in workforce development create a comprehensive system to provide America with a highly skilled workforce that competes in the global economy.
The NAWB team brings a depth of workforce development experience, project management, strong communication/coordination skills, and technical assistance experience. NAWB has contributed its expertise to several federal grants, including H-1B America's Promise, Apprenticeship Expansion and Modernization Fund, Scaling Apprenticeships Technical Assistance, SNAP E&T National Partnership Grants, and Expanding Community College Apprenticeships.
Working in partnership with JFF and the RITEI local sites, NAWB will identify strategies to support sites and their local WDBs in the areas of employer engagement, partnership, sustainability, and coordination with federal and state programs to advance people who work in low-wage jobs.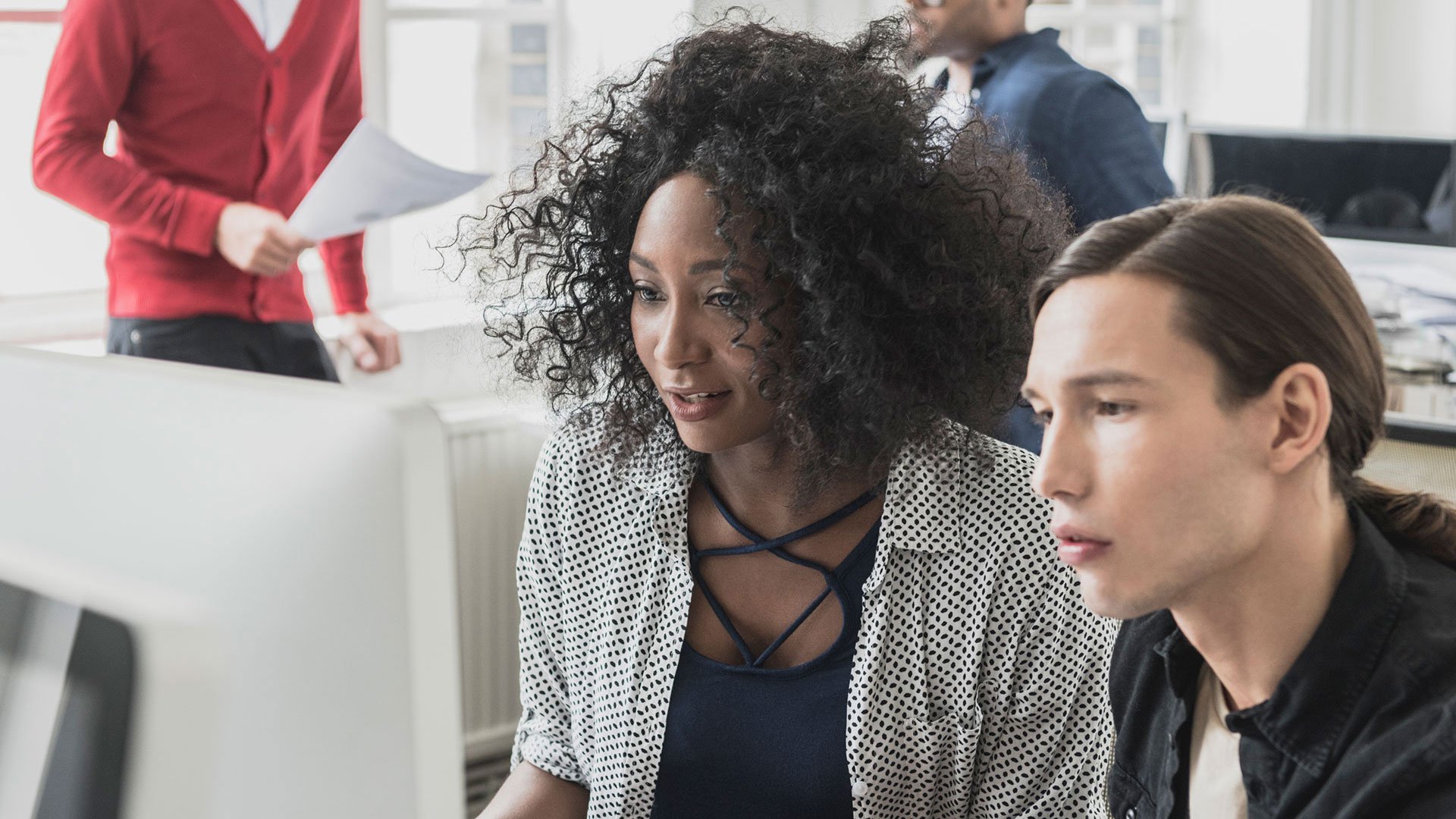 Meet Our Sites

Partners serving as site leads will work with other local partners to identify, refer, and assess candidates for the CompTIA or Google training program, offer case management and supportive services, cultivate paid WBL experiences, engage local employers, provide job placement supports, and track data.
TechSF is a local economic development agency leading the partnership in San Francisco. Community-based organization (CBO) JEVS Human Services will lead a partnership in Philadelphia, and educational institutions Metropolitan Community College and the CCCS will lead partnerships in Omaha and Denver, respectively. Another CBO, Redemption Bridge, led a partnership in South Dallas until June 2023.
Related
Learn more about JFF's work supporting the Google Career Certificates